Dear 2019 CMSA Exhibitor:
Thank you for choosing to exhibit at CMSA's 29th Annual Conference & Expo!
This page includes important information regarding exhibitor staff registration, hotels, show decorator and much more. Should you require additional information or assistance, please feel free to contact us via email or call (501) 673-1118.
2019 EXHIBITOR IMPORTANT DATES & INFORMATION
Quick Facts Sheet:
Here's a great overview resource regarding move-in/out, shipping, decorator info at-a-glance.
CMSA 2019's Official Show Decorator, Freeman Decorating:
Links to almost everything you'll need for the show can be found here and here and you can download a copy of the Exhibitor Service Manual here.
Lead Retrieval Order Form:
Capture leads at the booth easily and effectively with a lead retrieval machine.
Here is the order form for this service.
Mirage Exhibitor Services (Electrical, Wi-Fi and Cleaning Services ONLY)
Order additional services such as:
Electrical, Booth Cleaning, Food And Beverage, Internet and Telecom, Rigging & Technical Services.
NOTE Discounted pricing ends May 21, 2019.  https://www.mirageexhibitorservices.com/
Hotel Rooms and Reservation Information
Please check the Exhibitor Schedule prior to making travel arrangements.
Details for travel arrangements are here and room reservations may be made online here.
BEWARE: Neither CMSA nor the Host Hotels will ever call or email you about "special rates or deals".
Filing Taxes for Retail Sales Onsite and Exhibitors Based in Nevada
Plan to sell retail products and merchandise on the show floor? Are you a registered business in the state of Nevada? If so, it is urgent that you review this information immediately as well as this document from the state.
Certificate of Insurance
Have you sent in your Certificate of Liability Insurance (COI)?  This is a requirement for all exhibitors. If you have not done so already, please email that to us today. An example copy of this document can be found here.
Exhibit Staff Registration
Avoid lines and visit the web registration to register your exhibit staff today by:
Visit the exhibit staff registration page.
Type in the first few letters of your company name and hit SEARCH
Enter your password to begin. Your password is your booth number, without letters.
Exhibitors can purchase additional conference passes there as well. Your discounted rate is $399/ea.
If you have a registration-specific issue or concern, please email Cheryl Wills: cwills@fraserimagineers.com for assistance. You may also call Customer Service at (800) 310-7554 or email cmsaexh@experient-inc.com with any technical issues.
A few additional registration issues and answers are provided below under Exhibit Staff Registration FAQs.
Exhibitor Service Desk Onsite at the Show

The Exhibitor Service Desk will be located on the far left side as you enter the hall. The location is also indicated on the floorplan online. If you require services on site, need to order electrical, Wi-fi, decorator services, labor and more, this is where you'll want to go on site. The earlier you order in advance and ahead of deadlines, the less expensive these items will be. If a service is critical for you to have, please do not wait until you arrive at the show to find out if it's available, as this is likely to increase rates, delay the service or you may be requesting something that is no longer available for a last minute order.
All Exhibitors Must be Paid in Full Prior to Arrival
If there is an open balance for your exhibit space or sponsorship items, your freight will be held at the doc and you will not be allowed to set up until the matter is resolved.
If you need another copy of an invoice or require assistance with making a payment online, please contact us today to avoid any issues with this on site. If you have already activated your login after ordering your booth online, you can make a payment there and request another copy of your order or invoice as well. Here's where you would log in to use that system.
Exhibitor Communications and Emails
If you are not receiving updates and information on the event, it is possible that one of our email addresses is being filtered by your email system or email client. Please check your email filters for messages that have come from any of these domain names to confirm and add us to your safe senders / whitelist: @cmsa.org  @map-dynamics.com  @mg.map-dynamics.com  @fraserimagineers.com or @map-dynamics.com.
After placing your order for exhibit space, you should have received an email invitation from account-invitation@mg.map-dynamics.com. If you have already activated this account and have your login, you may visit our exhibitor management system to log in and view your invoices, account information, exhibitor details and make payments online.
More Questions / Need Help?
Contact us via email or call (501) 673-1118 for assistance.
"We're Exhibiting" Digital Badge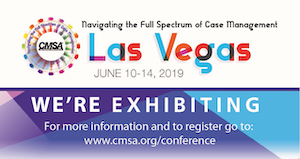 Show that you're proud to be exhibiting at the best case management conference around!
Download your badge to proudly display on social media, email signature or other communication by clicking here.
WANT MORE VISIBILITY?
Contact us via email or call (501) 673-1118 for assistance with additional sponsorships and promotional opportunities!
Exhibit Staff Registration FAQs
How many passes come with my booth?
Each 10×10 booth comes with the following complimentary FULL conference passes with CEs:
Ambassador 4
General Hall 3
Non-Profit 2
When you go through exhibit staff registration, you'll see the allocated number of passes that are available to you.
How can I buy more passes and how much are they?
Also, if you wish to add more passes for other staff, the discounted rate for exhibitors is $399/ea and those can be added from inside the exhibit staff registration area.
Can I assign one of my passes to someone that's already registered?
If someone from your company bought a full access pass earlier on and they will now be part of the exhibit staff using your allocated passes, please send Cheryl Wills an email explaining the situation along with your booth number and the registrant's information so this can be processed.
My company name won't come up in the registration search results, why is that & what can I do? 
If you have just recently signed up to exhibit in the last day or so, it can take little while to get your company information and pass allocation added to the exhibitor registration system. So if you have searched for your company and it's not showing up, that may be why. If you signed up more than 3 days ago, please send Cheryl Wills an email explaining the situation along with your booth number so we can address the issue.
Exhibitor & Setup FAQs
What furnishings are included in my booth space?
If you are in a traditional corner or inline booth (ex. 10×10 or 10×20) and not an island exhibit:
Are cleaning and vacuuming services included in my booth space?
The wastebasket provided with the booth will have removal service, however additional cleaning or vacuuming of carpet would need to be ordered. You may review pricing and order those services through Mirage Exhibitor Services, who handles electrical, wifi and cleaning service at: https://www.mirageexhibitorservices.com or via the pdf order form here. NOTE Discounted pricing ends May 21, 2019.
Are chairs included in my booth space?
No, those would need to be ordered through Freeman Decorating. Links to almost everything you'll need to order for the show can be found here and here and you can download a copy of the Exhibitor Service Manual here.
Need to Pay an Outstanding Balance?
Online Payments for booth space and sponsorships can be made 24/7 using your login for the exhibit ordering & management system.
If you don't have a login, never activated it, didn't receive any messages from @mg.map-dynamics.com and need us to send another invoice or payment request to you, please send us an email or call 501-673-1118.
If you need to mail a check, the address & details are on your order confirmation / invoice as well as links to our W9.
Prior to mailing payments, please note the check number and make a copy and record any tracking #s and mailing dates. Only send in a trackable, expedited method so that it arrives no later than one week in advance of the show.
IMPORTANT: Exhibitors with an outstanding balance are NOT allowed to set up or participate in the event and their freight deliveries are held at the doc. So please take care of this immediately or get in touch with us prior to the show to avoid any challenges on site.
Attendee Mailing List
Access the attendee mailing list for promoting your presence at CMSA 2019 must be sent directly to your staff. Please contact us via email if you still need this list.
In case you haven't received our earlier messages or are just joining us, let's catch you up on things:
Previous Exhibitor Update Emails, Links & Important Information:

http://solutions.cmsa.org/acton/rif/10442/s-0511-1902/-/l-4d6e:5/l-4d6e/showPreparedMessage?sid=TV2:FypPw7uk7
http://solutions.cmsa.org/acton/rif/10442/e-0c06-1905/-/l-tst:17/l-tst/showPreparedMessage?sid=TV2:1TCakDfHx
http://solutions.cmsa.org/acton/rif/10442/e-0b95-1902/-/l-tst:17/l-tst/showPreparedMessage?sid=TV2:yIXR3d7Xe
http://solutions.cmsa.org/acton/rif/10442/s-053d-1904/-/l-4d6e:5/l-4d6e/showPreparedMessage?sid=TV2:pPOfT7agw
http://solutions.cmsa.org/acton/rif/10442/s-0550-1905/-/l-0002:34/l-0002/showPreparedMessage?sid=TV2:s7KmA7pA1
http://solutions.cmsa.org/acton/rif/10442/s-0554-1905/-/l-4d6e:5/l-4d6e/showPreparedMessage?sid=TV2:lReWEXINh
http://solutions.cmsa.org/acton/rif/10442/s-0541-1904/-/l-4d6e:5/l-4d6e/showPreparedMessage?sid=TV2:4omoHLslr
http://solutions.cmsa.org/acton/rif/10442/e-0c0b-1905/-/l-tst:18/l-tst/showPreparedMessage?sid=TV2:omcLr3iie
http://solutions.cmsa.org/acton/rif/10442/e-0c08-1905/-/l-tst:17/l-tst/showPreparedMessage?sid=TV2:RKMwUq4j8